What is colorectal cancer?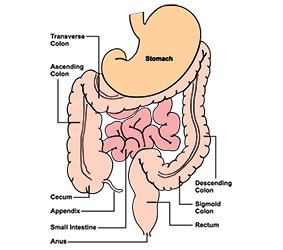 Colorectal cancer — cancer of the colon or rectum — is the fourth most common form of cancer diagnosed in Ontario. It is also the second most common cause of cancer death among Ontario men and the third most common cause of cancer death for women. The risk of colorectal cancer increases with age, with approximately 90% of new cases diagnosed in people aged 50 and over.
The colon and the rectum are part of the body's digestive system. After food is digested in the stomach, it passes first into the small intestines for further processing and then into the colon. The colon is a hollow, muscular tube that is coiled within the abdomen. Its main job is to absorb water from the food waste and form the semi-solid material we refer to as stool (feces). The average colon is about 168 centimeters (five and a half feet) in length. Stool that is ready to be excreted is stored in the rectum, which is the last six inches of the colon.
Overall, colorectal cancer – which can be prevented – is the second most common cause of cancer death in Ontario.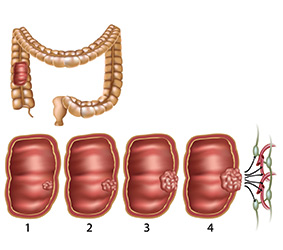 It is not uncommon for groups of abnormal cells to grow on the surface of the colon. These growths — referred to as polyps — can be raised or flat. Most polyps are benign, meaning they are not cancerous. But in some cases, a polyp may become cancerous over time.
Cancer in the colon or rectum can take up to 10 years or more to develop to an advanced stage. If colorectal cancer is detected early, 90% of cases can be successfully treated and cured. But if the disease has progressed, the odds of survival are much worse. Regular screening is the key to catching colorectal cancer early — when it is the most treatable and curable.
Risk factors you can change or control

Nutrition/diet
Red meat and processed meat




Eating 100 grams of red meat (about the size of a deck of cards) or 50 grams a day of processed meat increases the risk of colorectal cancer by up to 20%. Several factors about red and processed meats may increase colorectal cancer risk:

The iron in the red blood cells of red meat may promote the formation of potentially carcinogenic (cancer-causing) compounds.
Cooking red meat at a high temperature can result in the release of potentially carcinogenic compounds.
Processed meats frequently contain nitrates or related compounds that increase the risk of developing tumours.

Dietary fibre

A diet that is high in fibre may help to decrease the risk of colorectal cancer. Fibre helps to keep the colon healthy by speeding up the elimination of stool. Fibre is found in whole grains, vegetables and some fruit. Vegetables and fruit can also help to prevent nutritional deficiencies, provide people with natural sources of cancer-fighting vitamins and help people achieve or maintain a healthy weight.

Milk products and calcium

Calcium is a mineral that plays roles in muscle contraction (including the heart muscle), the secretion of hormones, sending messages through the nervous system and maintaining strong bones and teeth. There is some evidence that people who have a higher intake of calcium either from their diet (primarily from the consumption of milk products, calcium fortified alternatives, milk alternatives) or by taking supplements may have a slightly lower risk of colorectal cancer compared to those with low calcium levels. However, the reasons are not well-understood and more research is required.

Vitamin D

Vitamin D plays an important part in the body's metabolism of calcium. Vitamin D helps to promote bone health, reduce inflammation and improve muscle strength and immune functioning. It is possible that some of these effects may help to protect against colorectal cancer. However, at this point studies concerning vitamin D and colorectal cancer have produced inconsistent and sometimes weak findings. Additional research will be needed to determine how great an effect Vitamin D has on the risk of colorectal cancer.

Multivitamins

Multivitamins typically include the B vitamin folate (folic acid). There is some evidence that people who take multivitamins that include folate have a lower risk for colorectal cancer. The effect may reflect the role of folate in the functioning and reproduction of DNA and normal cell repair and division. However, the mechanism is unclear and the amount of evidence is limited. More research is needed before recommendations can be made concerning the use of multivitamins or folate supplements to prevent cancer. In the meantime, a balanced and healthy diet remains the best way to get all of the vitamins and nutrients your body needs.

Alcohol
People who regularly drink 25 grams or about two standard drinks of alcohol a day have a 20% increased risk of colorectal cancer. When alcohol is broken down by the body, some of the metabolites may damage the genetic material (DNA) in the cells (in other words, these substances are carcinogenic). In addition, alcohol may make it easier for cancer-causing substances to enter cells or facilitate the production of cell-damaging free radical oxygen molecules. Finally, people who drink heavily may not eat a healthy diet; as a result, they may lack nutrients such as vitamin D, calcium and folate that appear to help protect against colorectal cancer.

Smoking
Although we think of smoking as causing lung cancer, in fact it increases the risk of many types of cancer — including colorectal cancer. Tobacco smoke contains 70 elements or chemicals that are known to be cancer-causing (carcinogenic). There is no safe tobacco product and no safe level of smoking.

Physical activity
In studies comparing people who were the least and the most physically active, those who were the most active had a lower risk of colorectal cancer. The beneficial effects of physical activity may be due to its ability to decrease inflammation, reduce insulin levels, improve the metabolism of steroids, and reduce the transit time of stool through the gastrointestinal tract. Physical activity may also indirectly protect against cancer by making it easier for people to achieve and maintain a healthy weight.
Body fat
There is evidence that having more body fat may increase the risk of colorectal cancer. Even people with a Body Mass Index (BMI) in the "normal" range may be at increased risk if a greater proportion of their weight is in the form of fat. Excess fat may increase the level of insulin and insulin-like growth factors in the blood and stimulate the release of certain growth hormones. These changes may contribute to the development of some types of cancer.
Acetylsalicylic Acid (ASA or Aspirin®)
Acetylsalicylic acid (ASA or Aspirin®) belongs to a class of medications referred to as non-steroidal anti-inflammatory drugs (NSAIDs). Studies of people regularly taking ASA to protect against heart disease and stroke found it also reduced the risk of colorectal cancer. The exact reason why ASA has this effect is still being studied.
Although many forms of ASA are available without a prescription, taking it regularly can have both benefits and risks. It's important to talk with your doctor, nurse practitioner and/or your pharmacist about both the risks and the benefits for you.
For women:
Oral contraceptives

There is some evidence that women who take oral contraceptives (birth control pills) for at least five years have a lower risk of colorectal cancer than women who have never used birth control pills. The exact reason for this effect is not known. One possibility is that birth control pills lower the levels of certain digestive enzymes that may be related to the development of cancer.

Oral contraceptives have both benefits and risks. It is important to talk with your doctor or nurse practitioner about the risks and benefits for you, based on your age, lifestyle, family history and personal medical history.

Hormone replacement therapy (HRT)

Hormone Replacement Therapy (HRT) refers to hormones such as estrogen and progesterone or progestin given to women who have stopped menstruating (i.e., are post-menopausal) to relieve symptoms of menopause such as hot flashes or vaginal dryness. In some cases, it may be prescribed to prevent osteoporosis (bone-thinning). There is some evidence that women who take HRT for five years or more have a lower risk of colorectal cancer compared to women who have never taken HRT. There are also risks to taking HRT, however. Talk with your doctor or nurse practitioner about both the risks and the benefits of HRT.
Risk factors you can't change or control
There are some risk factors for colorectal cancer that you can't change or control. For example, you can't change your age or height. If you have risk factors you can't change, it is even more important to focus on those you can change in order to reduce your risk.

Family history
Genetics may play a role in the development of colorectal cancer. People with a parent, sibling (brother or sister) or child with colorectal cancer have an increased risk of developing the disease. The risk is higher if you have more than one first-degree ("blood") relative with colorectal cancer or if your relative was less than 45 years of age at the time of his or her diagnosis.
Although they are relatively rare, there are some genetic conditions strongly related to colorectal cancer. They include hereditary non-polyposis colorectal cancer, familial adenomatous polyposis (FAP) and attenuated FAP, MYH-associated polyposis (MAP), Peutz-Jeghers syndrome and juvenile polyposis.
You can find more information on genetic testing for colorectal cancer here.
People who have one or more first-degree relative with a history of colorectal cancer are at increased risk and should be screened with a colonoscopy beginning at age 50, 10 years earlier than the age at which the relative was diagnosed, or whichever is first. Talk with your doctor or nurse practitioner about being screened for colorectal cancer. If you don't have a doctor or nurse practitioner:
Visit Health Care Connect online or call 1-800-445-1822 (Monday to Friday 9 am – 5 pm).
Visit ColonCancerCheck or call ServiceOntario INFOline at 1-866-410-5853 (Monday to Friday 8:30 am – 5:00 pm), TTY 1-800-387-5559.
Inflammatory bowel disease (IBD)
There are two main types of inflammatory bowel disease (IBD): Crohn's disease and ulcerative colitis. Both diseases lead to abnormal changes in the digestive track and trigger chronic inflammatory mechanisms that promote the development of cancer. Research suggests that people who have either form of IBD for ten or more years have a much greater risk of colorectal cancer. If you have IBD, talk with your doctor or nurse practitioner about colorectal cancer screening.
Height
There is evidence that tall people may have a slightly higher risk of colorectal cancer than people who are not tall. The precise reason for this relationship is not known. It is thought that height may be a marker for genetic, environmental, hormonal and/or nutritional factors that affect growth.
What you can do to protect yourself

Screening:
The ColonCancerCheck Program
If colorectal cancer is caught early, there is a 90% chance it can be cured. The ColonCancerCheck program was launched in 2008 as the first population-based, organized colorectal screening program of its kind in Canada. The goals of ColonCancerCheck are to:
Reduce deaths from colorectal cancer through an organized screening program.
Improve capacity of primary care to participate in comprehensive colorectal cancer screening.
The program helps to improve colorectal cancer screening by:
Inviting Ontarians to participate in screening.
Reminding people when to be screened.
Continually evaluating program quality and performance.
Symptoms of colorectal cancer:
A change in your bowel movements.
Bright red or very dark blood in your stool (poop).
New and persistent diarrhea, constipation or feeling that your bowel does not empty completely.
Stools that are narrower than usual.
New and persistent stomach discomfort.
Unexplained weight loss.
If you are experiencing any of these symptoms please consult with your doctor or nurse practitioner.
There are several screening methods for colorectal cancer. The best test for you depends on your family history.
1) Fecal occult blood test (FOBT) – a simple, self-administered test that can be done in the privacy of your own home. The test can detect the presence of trace amounts of blood in the stool. A positive test result doesn't mean you have colorectal cancer but means you should undergo follow-up testing.
In the ColonCancerCheck program, people who don't have any symptoms of colon or rectal cancer and no family history of colorectal cancer are considered to be at "average risk." If you fall into this category, starting at age 50, you should have a FOBT every two years. At age 74, if your test results are normal, talk with your doctor or nurse practitioner about whether you need to continue. Whether you continue to be screened will depend upon several factors.
If you have an abnormal FOBT test result, you should have a follow up colonoscopy within eight weeks. Consult with your doctor for more information.
To obtain your free FOBT test kit, talk with your doctor or nurse practitioner. People without a doctor or nurse practitioner can get a kit by contacting Telehealth Ontario at 1-866-797-0000. For more information visit ColonCancerCheck.
2) Another test that may be used to diagnose colorectal cancer is flexible sigmoidoscopy (sig-moid-os-cō-pee). In this exam, a thin flexible tube is inserted into the rectum. The camera at the tip of the tube makes it possible for the doctor to view the inside of the rectum and most of the sigmoid colon (the last two feet or 61 cm of the large intestine).
People ages 50 to 74 without a family history of colorectal cancer may choose to be screened using this test. Flexible sigmoidoscopy should be repeated every 10 years, or as recommended by your doctor.
3) Colonoscopy (colonoscopy (koh-luh-nos-kuh-pee) – this test is an examination of the lining of the rectum and colon. A doctor will perform this test by using a long flexible tube with a camera on the end. People who have symptoms, abnormal results from an FOBT test, or other form of colon or rectal disease such as Crohn's disease or ulcerative colitis may require colonoscopy. As well, people who have a first-degree relative (parent, sibling or child) with a history of colorectal cancer are at increased risk. For these people, colonoscopy is recommended beginning at age 50 or 10 years earlier than the age at which the relative was diagnosed, whichever occurs first.
Depending on your family history, colonoscopy should be repeated every 5 to 10 years. Your primary care physician can work with you to determine how frequently you should be tested depending on your family history.
4) Other tests – you may have heard of other colorectal cancer screening tests, however due to insufficient evidence, Cancer Care Ontario does not recommend the following tests: blood or urine metabolomic tests, blood or stool DNA tests, computed tomography colonography, capsule colonoscopy, and double contrast barium enema.
To find out more about ColonCancerCheck and colorectal cancer screening:
Visit ColonCancerCheck or call ServiceOntario INFOline at 1-866-410-5853 (TTY 1-800-387-5559) Monday to Friday 8:30 am-5:00 pm.
If you don't have a family doctor or nurse practitioner, you can find one by using the Ministry of Health and Long-Term Care's Health Care Connect program or register by phone at 1-800-445-1822 (Monday to Friday 9 am to 5 pm).
Learn about the First Nations, Inuit and Métis Let's Take A Stand Against Colorectal Cancer campaign.
Optimize your health
Making even small changes today can help you have a healthy future. Taking even small steps to a healthier lifestyle will give you a greater sense of vitality, relieve stress and give you a greater sense of control over your health. Making healthy changes can also help encourage those close to you, such as family and friends, to make healthier choices.

Eat a healthy diet
You don't have to live on nothing but kale and soy to be healthy. A healthy diet means a balanced diet that incorporates a wide range of food groups. A healthy diet can help to reduce your risk of colorectal cancer.
It's not uncommon for people to think their diet is healthier than it really is. Keep a food diary for a week and record what you eat each day. At the end of the week, compare your diet to the recommendations in Canada's Food Guide. You may find that you're eating more red or processed meat than you should or could benefit by consuming more calcium-rich dairy products, vegetables, fruit or whole grains.
A diet high in fibre has many immediate — as well as long-term — health benefits. As well as preventing constipation and reducing the risk of colorectal cancer, a high fibre diet can help people with diabetes manage their blood sugar. Eating lots of fibre-rich vegetables, fruit and whole grains is the best way to increase your fibre intake. When you increase the amount of fibre you eat, be sure to stay hydrated by drinking enough fluids.EatRight Ontario has more information.

Learn more:

Regular Physical Activity
Being physically active can increase your health, well-being and quality of life and reduce your risk of many forms of cancer. Being "active" doesn't mean just formal exercise programs — lots of everyday activities, such as gardening, housework, walking to work or the store, or dancing, also count. Many of them are activities you can do as a family, with friends or with others.

Tips:
For a week, keep track of how much time you spend being active and how many hours you are sedentary, such as watching TV or movies or on the computer. You can also write down times you missed an opportunity to be active, such as when you took the escalator instead of the stairs or drove instead of walked to the mailbox or convenience store. If you're like most people, you may find lots of time when you can be more active.
If you're a "people person" take up activities that fulfill that need. For example, instead of walking alone, find a walking buddy or join a walking or hiking group. Check out your local recreation centre or YWCA/YMCA for active groups, teams or classes you can join.
Try to develop a range of different activities that you enjoy. For example, if it's raining and you can't walk outdoors, go to a yoga class, go swimming at an indoor pool or walk on a treadmill.
Can't resist watching TV or videos? Walk, jog or exercise as you watch. Challenge yourself to do ten push-ups or thirty crunches during the next commercial break. Make it a family affair by challenging your partner or children to join you.

Learn more:
If you haven't been active for a while, you should consult with your doctor or nurse practitioner first. Completing the PAR-Q form will give your healthcare provider valuable information about your readiness to be active.

Maintain a healthy weight
We've all heard about the increase in the number of Canadians who are overweight or obese. The good news is that close to half of overweight Canadians have talked with their health care provider about their weight. Recognizing you have a problem and making small but consistent changes is the first step in weight management success.
The National Weight Control Registry is a database of thousands of people who have been successful at reaching and maintaining a healthy weight. Reports from the members show that tried-and-true methods include:
Cutting down on portion sizes, eating a variety of vegetables and fruit and avoiding high-fat foods.
Eating at regular intervals throughout the day (78% report they eat breakfast every day).
Tracking your weight regularly (75% say they weigh themselves at least once a week).
Regular physical activity. The most common form of activity was walking and many reported breaking their activity into chunks throughout the day or incorporating it into their everyday routine, such as walking to work.

Learn more:
eaTracker helps you track both what you eat and how active you are – the two pillars of being at a healthy weight.
You can speak for free with a Registered Dietitian by calling or emailing EatRight Ontario at 1-877-510-5102 (www.eatrightontario.ca). Ask about local programs through your local Public Health Unit or for free resources to be sent to you.
Find out more about the Body Mass Index and the relationship between weight and health.

Limit your alcohol
Alcohol is a carcinogen, meaning that it increases the risk of several forms of cancer. For cancer, there is no safe level of drinking.
If you drink alcohol, some tips for cutting down include:
Keep track of how much you drink by putting check marks on a calendar or make notes on your cell phone notepad. You may be drinking more than you think.
Track situations or people that trigger the urge to drink and find alternatives. For example, instead of meeting people in a bar, meet them in a coffee shop – or even better, on a walking trail.
If you're pouring your own drinks, know the standard drink sizes so know your true intake.

A drink (one serving) is:

1 350 ml (12 oz) bottle of 5% alcohol beer.
1 145 ml (5 oz) glass of 12% alcohol wine.
1 45 ml (1.5 oz) shot of 40% alcohol spirits.

"Pace and space" so you consume no more than one standard drink per hour. Between alcoholic drinks, have non-alcoholic beverages such as water, soda or juice.
Set a goal, such as drinking fewer days per week or fewer drinks per day.

Learn more:
If you find yourself struggling to make changes, don't give up — there are resources out there to help you.

Be smoke-free
If you're not a smoker, then congratulate yourself for avoiding an important cancer risk factor. To keep yourself safe, also try to avoid exposure to other people's tobacco smoke (second-hand smoke).
Smokers have probably heard that quitting will help to improve their health and reduce the risk of cancer and other serious diseases. The good news is that it's never too late to benefit from breaking the habit and becoming smoke-free.
It can appear hard to quit smoking and sometimes it takes more than one attempt, but more than two-thirds of Canadians who were once smokers have been able to butt out. Six out of ten used a smoking cessation aid, such as nicotine replacement therapy, quit smoking programs, or medication. Talk with your doctor, nurse practitioner or pharmacist about the many options out there to help people become smoke-free.

Some tips if you're a smoker who is considering quitting:
Write down or think about how you would feel if you could quit. For example, would you feel better about yourself and more in control of your life? Would it make you a better role model to your children or loved ones? Would it give you a better chance of living to enjoy a healthy retirement? Think about what your life would be like if you could quit and your reasons for wanting to stop.
Keep track of your smoking. Sometimes, just seeing how much they are smoking — and being more aware of when they are reaching for a cigarette — can help people to cut back. Keep a count of every cigarette you smoke on your cell phone, on a piece of paper, or on your computer.
Book an appointment with your doctor or nurse practitioner or talk with your pharmacist about smoking cessation aids and programs that might make it easier for you to quit. Investigate all your options so you can think about what you may do in the future.
Planning is the key to success. Develop a plan for how you will quit (cutting down, cold turkey, or using a smoking cessation aid), when you will start (your quit date), and who will help you and be your quit smoking buddy or coach. Your quit smoking buddy or coach should be someone who will be sympathetic but firm to help you stay on track.
Knowing how much your habit is costing you may give you motivation to quit. Find out with the Healthy Canadians Cost Calculator.

Learn more: