What is cervical cancer?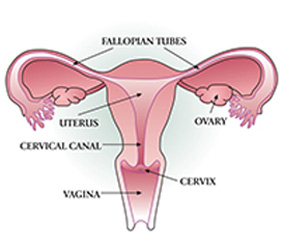 Cervical cancer is cancer of the cervix. The cervix is found at the opening of the uterus and links the uterus and the vagina. The cells of the cervix are constantly being renewed. Sometimes these cells change and become abnormal. You may hear this referred to as dysplasia (dis-pley-zhuh). Often, abnormal cells naturally return to being normal. But if they don't, these cells may slowly – over a number of years – turn into cervical cancer.
Cervical cancer is one of the most preventable types of cancer. Regular cervical cancer screening can detect abnormal changes in the cells of the cervix before they become cancerous. Removing or treating these cells can reduce cervical cancer-related deaths.
In Ontario, cervical cancer mortality has been steadily declining since at least the early 1980s and incidence rates declined from the 1980s through to the mid-2000s and have since levelled off. Much of this decline is due to widespread screening for cervical cancer with the Pap test, which catches pre-cancerous and cancerous changes early. In 2007, the Ontario government started to offer publicly-funded immunization against human papillomavirus (HPV) – the primary cause of cervical cancer – in schools.
Despite the advances made to date, cervical cancer is the 3rd most common cancer for Ontario women ages 20 to 44 and the 12th most common for women of all ages.
Over a lifetime, this potentially preventable cancer will affect about

1 in 152 women.
HPV
HPV is a very common family of viruses that is primarily transmitted by skin-to-skin, intimate sexual contact, such as intercourse or oral or digital sexual activity or touching. It can be contracted from a partner of any gender.
There are over 100 strains of HPV. Some can cause warts on the cervix and in the vagina but do not cause cancer. These strains are commonly referred to as "low-risk" HPV. Other types of genital HPV are called "high-risk" because they cause cancer in both women and men. The single most important risk factor for developing cervical cancer is a persistent infection with a "high-risk" strain of HPV.
About three out of every four people – males and females – who have had sex have been exposed to HPV at some point in their lives. Often there are no symptoms that you or your sexual partner may be carrying the infection. The infection usually goes away on its own within two years. However, in some cases an HPV infection may persist. If the body is unable to clear the infection, over a number of years (10 years or more) it can cause abnormal changes to occur in the cells of the cervix. If these abnormal cells are not found and treated, they can become cancerous.
Risk factors that increase the risk of HPV
Number of sexual partners
The more sexual partners you have, the greater your risk of being infected with HPV. Your risk may also be increased if a partner is a carrier of HPV or has had multiple sexual partners in the past.
Becoming sexually active at a young age
Studies suggest that women who were younger when they started being sexually active may be at greater risk of HPV infection. The exact reasons for this finding aren't clear. It may be that women who become sexually active earlier in life have more sexual partners over the course of their lifetimes.
Use of condoms or diaphragms
There is some evidence that regular use of condoms or a diaphragm can help to reduce the risk of cervical cancer by reducing exposure to HPV. The evidence is stronger for condoms than diaphragms. It's important to know that even condoms can't protect 100% against HPV or eliminate the risk of cervical cancer.
Risk factors that may increase the risk of cancer from HPV
Most women who contract an HPV infection do not develop cervical cancer. Cervical cancer occurs when the body is unable to clear a high-risk strain of HPV so it persists. A number of factors affect whether the HPV infection will persist: some are things that you can change, whereas others are things that happened in the past or that you can't change. If you have risk factors you can't change, you can still help to reduce your risk by addressing factors you can change.

Smoking
If a woman who is infected with a high-risk strain of HPV smokes, her risk of cervical cancer is up to 80% higher. Smoking inhibits the immune system, making it harder for the body to fight off infection. As well, tobacco is a carcinogen that increases the risk of many forms of cancer by damaging the DNA in cells, preventing the body from getting rid of damaged cells, and/or interfering with mechanisms that regulate normal cell growth.
Multiple pregnancies
Although the exact reasons aren't clear, studies have shown that women who have given birth multiple times may be at increased risk of persistent infection if they are exposed to HPV. It's possible that damage to the cervix during childbirth or hormone-related changes during pregnancy affect the body's ability to resist HPV infection.
Sexually transmitted infections (STI)
STIs (previously referred to as sexually transmitted diseases or STDs) such as chlamydia or herpes simplex virus type 2 can decrease your body's ability to fight an HPV infection.
Being immune-compromised
Conditions, diseases or medications that suppress your immune system can make it difficult for the body to fight an HPV infection. Examples of immune-suppressive conditions include Human Immunodeficiency Virus (HIV) or Acquired Immunodeficiency Syndrome (AIDS). People who are being treated for cancer or have had an organ transplant (e.g., a liver or kidney transplant) are often treated with drugs or therapies to inhibit or suppress the immune system. If you are immune-compromised, talk with your doctor or nurse practitioner about cervical cancer screening. You may need to be screened more frequently than once every three years.
What you can do to protect yourself

Screening:
The Ontario Cervical Screening Program
The Ontario Cervical Screening Program is a program of Cancer Care Ontario and the Government of Ontario to help prevent and reduce deaths from cervical cancer. The program sends letters to Ontario women inviting them for Pap testing, advising them of their test results and reminding them when it is time to return for screening.
Be screened regularly
Cervical cancer is one of the most preventable forms of cancer. Starting at age 21, all women who 1) are sexually active or 2) have been sexually active in the past should start regular screening for cervical cancer. Based on the latest clinical evidence, most women should be screened every 3 years. Regular screening should continue until at least age 70 or when advised by a doctor or nurse practitioner that you can stop.
Currently, the Pap test (also known as the Pap smear) is the most common means of finding cell changes in the cervix that may lead to cancer. It's important to learn how to protect yourself with regular Pap tests.
If you haven't been screened for more than three years, it's time to talk to your doctor or nurse practitioner.
Pap tests can be performed by:
Your doctor or nurse practitioner. If you don't have a doctor, you can register for Health Care Connect online or by calling 1-800-445-1822.
Some public health units and community health centres also provide Pap tests. For information on healthcare services in your community, visit Health Care Connections or call the ServiceOntario INFOline at 1-866-532-3616 (Monday to Friday 8:30 am to 5:00 pm; TTY 1-800-387-5559; TTY in Toronto 416-327-4282).
To find out more about the Ontario Cervical Screening Program:
Visit Cancer Care Ontario or
Call ServiceOntario INFOline at 1-866-523-3161 or in Toronto 416-314-5518; TTY 1-800-387-5559, TTY in Toronto 416-327-4282; Monday to Friday 8:30 am – 4:00 pm.
For more information about all of Ontario's cancer screening programs
Call ServiceOntario INFOline 1-866-559-4598; TTY 1-800-387-5559; in Toronto TTY 416-427-4282; Hours of operation 8:30 am-5:00 pm.
Learn about the Aboriginal Cancer Strategy II.
Vaccination
Since 2007, the HPV vaccine (Gardasil®) has been offered to female grade 8 students across Ontario. This voluntary publicly-funded vaccination program is designed to vaccinate participants before they have become sexually active and potentially exposed to the HPV virus. There is also a free catch-up program for girls in grades 9 - 12 who didn't get the complete 3-dose series when they were in grade 8.

Learn more about Ontario's HPV vaccination program:
Call ServiceOntario INFOline at 1-866-559-4598 (TTY 1-800-387-5559; in Toronto TTY 416-427-4282; Hours of operation 8:30 am-5:00 pm).
In addition to the publicly-funded program, the HPV vaccine is available on a user-pay basis. The vaccine costs approximately $500 and may be covered by some private health plans. Women up to 45 years of age may want to talk with their doctor or nurse practitioner about whether they want to be vaccinated to protect against future infections.
Although the HPV vaccine is very effective in preventing some of the high-risk strains of HPV, it does not protect against all forms of HPV. All women – including those who have received the HPV vaccine – need to be screened regularly for cervical cancer.
Safe sex
If you feel uncomfortable talking about sexual health with your intimate partner or partners, you're not alone. Many Ontarians are reluctant to ask partners to use condoms or talk about their sexual history. But such conversations are important for your health: having unprotected sex, especially with multiple sexual partners, may increase your risk of HPV infection. Public health units offer sexual health clinics where you can find objective, confidential and compassionate professionals who will listen to and help you. Or talk with your doctor or nurse practitioner.

Learn more:
To find a sexual health clinic at your nearest public health unit or community health centre, visit Your Health Care Options.
Call ServiceOntario INFOline at 1-866-523-3161 (TTY: 1-800-387-5559; in Toronto TTY at 416-327-4282).
Visit SexualityandU.ca.

Become smoke-free
Tobacco smoke – whether it's your own or someone else's second-hand smoke – can affect your immune system, damage DNA and increase the risk of cancer. You may currently see yourself as "a smoker" but you can change that. Over half of Ontarians who have ever smoked have already broken free of their nicotine addiction. Of those who still smoke, each year nearly half try to quit. Sometimes, it can take several attempts to become permanently smoke-free. But each time you try, you move closer to your goal of being smoke-free.
Tips if you are thinking about quitting now or soon
EXPAND
COLLAPSE
There is no one "right" way to quit. Different people may use different approaches so it's good to check out all of your options. For example, nearly 6 in 10 smokers who try to quit use something to help them, such as nicotine replacement therapy, prescription medications, calling telephone quitlines, or attending a smoking cessation class. Talk with your doctor, nurse practitioner or pharmacist about the different options — and which may be better for you.
Planning is the key to success. Develop a plan for how you will quit (cutting down, cold turkey, or using a smoking cessation aid), when you will start (your quit date), and who will help you and be your quit smoking buddy or coach.
Write out your reasons for quitting and post it someplace where you will see it regularly. Everyone has their own reasons to quit. It may be something like:

I want to feel better.
I don't want to die and leave my family.
I'm a smart person but cigarettes make me look dumb.
I don't want to pollute the air my family breaths.
I'm tired of being out-of-breath.
I don't want to smell like an ashtray any longer.

Most smokers find that particular places or activities trigger them to automatically light up. Sit down with a piece of paper and write down your smoking triggers. Then try to think of what you can do to avoid these places or activities. For example, if you always have a cigarette with your morning coffee, switching to tea or drinking your coffee later in the day can disrupt the habit.
Finding it hard to make the change? It may help to see how much money it takes to smoke with the Healthy Canadians Cost Calculator.
Many women use cigarettes as a response to feeling stressed. But the costs and risks of cigarettes actually increase the stress in your life. Research suggests that instead of a cigarette, you'll feel better and more in control if you practice deep breathing instead. Deep breathing is quick, free and easy to learn:

For 3 seconds, slowly take a deep breath through your nose. As you inhale, let your abdomen expand.
Hold the breath for 3 seconds.
For 6 seconds, slowly exhale through your mouth. Feel your abdomen moving in.
Repeat 3 to 5 times.

Deep breathing can help to reduce cravings, relieve anxiety and help you to relax. It increases oxygen and blood flow to the brain, so it can also help to energize you. Try it the next time you feel an urge for a cigarette.

For some more ideas, tips and resources, check out the following:
Tips if you don't feel ready to try:
EXPAND
COLLAPSE
Write down how you would feel if you could quit. For example, would you feel better about yourself and more in control of your life? Would it make you a better role model to your children or loved ones? Would it give you a better chance of living to enjoy a healthy retirement? Think about what your life would be like if you could quit.
Keep track of your smoking. Sometimes, just seeing how much they are smoking – and being more aware of when they are reaching for a cigarette – can help people to cut back. Keep a count of every cigarette you smoke on your cell phone, on a piece of paper, or on your computer.
Book an appointment with your healthcare provider or talk with your pharmacist about smoking cessation aids and programs that might make it easier for you to quit. Investigate all your options so you can think about what you may do in the future.
Remember that everyone can change. Just because you are a smoker today doesn't mean you have to be one tomorrow. Millions of Canadians – including people who smoked for decades – have quit. Every time you try to quit, you are moving closer to the goal of being permanently smoke-free.
Knowing how much your habit is costing you may give you motivation to quit. Find out at the Healthy Canadians Cost Calculator.
When you feel ready to start making changes, check out some of these great resources:
Tips for avoiding second-hand smoke:
EXPAND
COLLAPSE
Think of when and where you are exposed to second-hand smoke. Is it at home, in the car or in public places? Once you have identified where and when this is happening, try to think of ways you can change the situation. Could you ban smoking from your home or car?
Asking friends and family to not smoke in your presence can be difficult. But remember you are doing this to protect your health. Explain the effect that their smoke can have on your health.
Focus on your long-term goal, a long and healthy life with the people you love.
More resources to help you include: